Masterclass di Sassofono
Rafael Yebra
Docente al Conservatorio Superiore di Vigo (Spagna)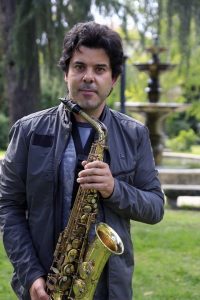 After he studied at the Conservatory of Ourense and A Coruña, he participates in the Seminar Contemporary Saxophone at School of Advanced Studies IGAEM (Galician Institute of Performing Arts and Music), taught  by A Gomis, and seminars taught by J. M. Londeix and M. B. Charrier. He premieres works by Jacobo Gaspar, Haché Costa, Alicia Díaz de la Fuente, Jesús Gonzalez, Luis Carro, Maria Garcia-Mendoza, Pablo Beltrán, Antonio Rocha, Fernando Buíde, Eduardo Soutullo, Eckart Beinke, José Luis Campana, Christophe Havel and many others
Rafael Yebra was director and now is a saxophone teacher at the Conservatory of Music in Vigo. He directs and coordinates Saxornadas and Aula Internacional de Saxofón in Tui. He performeds solo concerts  with Múltiplensemble with the Saxophone Ensemble S@x 21, TAC (Taller Atlántico Contemporáneo) Real Filarmonía de Galicia and many others.
In 2009, he creates MULTIPLENSEMBLE, this group was presented at the Festival  Vigo ARE MORE in collaboration with the Goethe Institute in Madrid and the Al-ga group, in a cycle monograph devoted to the German composer K. Stockhausen. In 2010 he participated in the recording of the CD fifteenth cycle of the Galician Association of Composers with a composition by Antonio Rocha.
With Multiplensemble premiered in 2012 and directed the multidisciplinary show "Visions sonoras sobre o Lérez" in Pontevedra.
Many schools and conservatories, and festivals invate him to make the master-class and concerts.
Currently he is working on different projects that attempt to combine the current music (contemporary) with rock, jazz and other so that the public can identify better with the sound reality we are living.
| | | |
| --- | --- | --- |
| giorno | orario | luogo |
| 1 Dicembre 2021* | 11 – 16 | aula 203 |
| 2 Dicembre 2021 | 9 – 13 | aula 216 |
| 3 Dicembre 2021 | 9 – 14 | aula 112 |
*Al termine del primo giorno della masterclass,  il M.° Yebra terrà un recital in Sala Puccini dalle 18,30 alle 20,30.
Docente referente della Masterclass:M.o Mario Marzi
Iscrizioni on line dal link sottostante entro il: 25/11/2021
Per accedere al modulo occorre aver fatto il login come utente registrato.